Cleanups at suspected "drug houses" raided by narcotics officers during three raids in as many months were seen Wednesday to be in full swing of compliance as city and county inspectors continue to monitor the work. SCV Homes that were the target of drug raids during which drug arrests were made, were inspected by city of Santa Clarita inspectors and, in some cases, also by inspectors with the Los Angeles County Department of Public Health. The alleged "drug houses" were on streets that included: Sand Canyon, Nearbrook Street, Maben Avenue, and Alaminos Street. Once the drug raids are completed and suspects apprehended by deputies of the Santa Clarita Valley Sheriff's Station, city officials assigned to the Community Preservation department enter the drug house to begin their own version of detoxification cleanup. Each of the three suspected drug houses raided since March was found to be in violation of the city's building code and cited for property maintenance infractions for "trash, junk and debris" found in and around the houses. City officials have called on county public health officers for at least two of the suspected drug homes. The suspected "dirty" drug houses were within the city of Santa Clarita jurisdiction on Nearbrook Street, Alaminos Street and Maben Avenue. On Wednesday, The Signal dropped by each of the suspected "drug houses" to see what inspectors are likely to see when they re-visit the homes.
Nearbrook Street
On March 8, narcotics bureau officers raided a home on the 18900 block of Nearbrook Street and arrested more than a dozen people on drug offenses including a 65-year-old Canyon Country woman was arrested on suspicion of running a drug house. The suspect, Judith Ward was scheduled to appear in court at the Santa Clarita Courthouse Wednesday. Once the March raid was over, city code enforcement officers entered the house. They ended up issuing citations to the owner of the house for building code violations, a zoning code violation and property maintenance, Rivas said. "It was found to have an accumulation of trash, junk and debris – piles of trash," Rivas said. They also called in county public health inspectors and an official with Adult Protective Services to investigate suspicions that an occupant of the house should not – for health reasons – be living there. "We went out and did a re-inspection on June 9," Rivas told The Signal Wednesday. "They've made progress in terms of a lot of the trash and debris cleaned up," he said. The home owners were still in the process of addressing two building code violations – one for "un-permitted electrical work" in the home's interior and an "un-permitted garage conversion," Rivas said. Because city-ordered changes were being carried out, city officials gave the owner additional time to make other changes. The house will be inspected a third time on June 30, Rivas said.
Maben Avenue
On May 23, a drug raid was carried out on a house on 27000 block of Maben Avenue, where at least five suspected heroin and methamphetamine dealers were arrested. A 57-year-old man was arrested on suspicion of operating a drug house. Once again, city officials entered the house to assess the damage and begin the cleanup.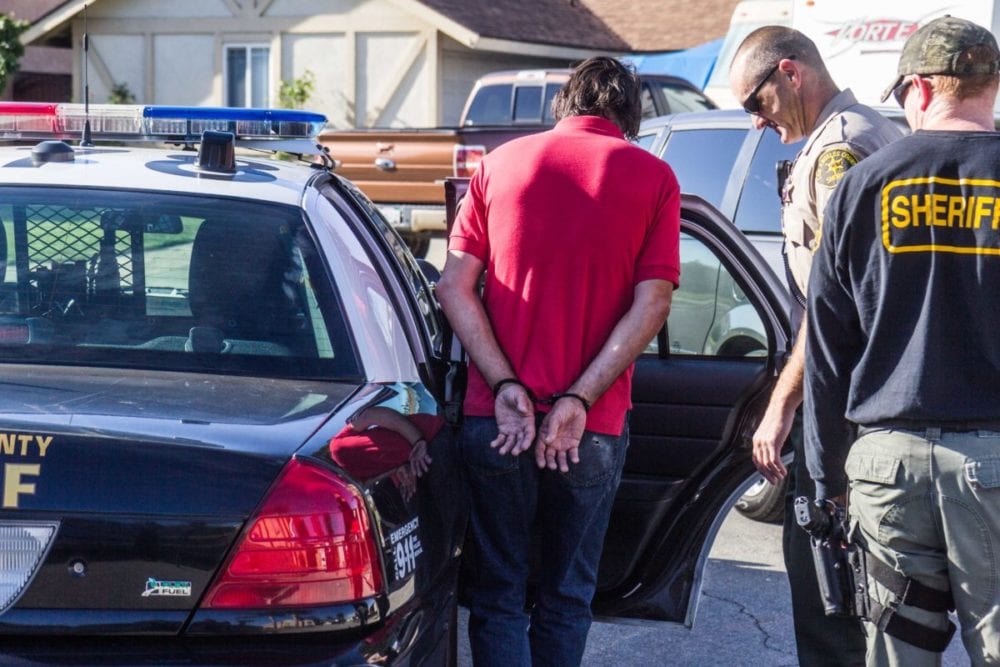 "Building code violations were identified," Rivas told The Signal after his initial visit. "And, again property maintenance for junk, trash and debris.  That was certainly identified here at this house." On Wednesday, a worker making repairs to the ceiling of the garage Wednesday, told The Signal that repair work has been underway at the house for about a month.  The home was raided May 23. "We (initially) found a green pool on the property," Rivas said. "So when we go back to inspect on June 29, we'll go out to the pool and make sure it is in good working condition. Public health and vector control officers were called to inspect the neglected swimming pool "for concerns about mosquito larvae." What public health inspectors found during their inspection was hoarding. "Public Health received the complaint on May 23rd, 2017 regarding hoarding at the location," Katie Martel, spokeswoman for the public health department told The Signal. "Public Health and Santa Clarita Code Enforcement staff responded on the same day and instructed the occupants to clean and maintain the premises," she said. "Follow up inspection is scheduled later this month."
Alaminos Street
The same officers were called May 9 to the house raided on Alaminos Drive which also had a "green" swimming pool, Rivas said. Narco team members descended on a home on Alaminos Drive, between Calwood Street and Shine Drive where they arrested a woman in her 70's accused of running a drug house, and a man in his 40's accused of being under the influence of drugs. The owner of each of cited home was given a deadline to make the corrective changes. City inspectors were scheduled to return to the Alaminos property tomorrow, Friday, Rivas said. "When he goes out to inspect the house, he will inspect all the same things regarding the green pool," he said. The home owner was also cited for a building code violation, specifically, "unpermitted construction," Rivas said Wednesday. A visit to the Alaminos home Wednesday revealed an un-littered font yard and a congested side alleyway, with a filled garage bag left in the driveway. When a neighbor across the street was asked about work being done at the house, he said: "All I see there are druggies." jholt@signalscv.com 661-287-5527 on Twitter @jamesarthurholt