The William S. Hart Union High School District announced its policies regarding student eligibility for its free or reduced-price meals program Thursday. Effective July 1, 2017 to June 30, 2018, the National School Lunch Program and/or School Breakfast Program provides free or reduced-price meals to children if their household income is less than or equal to the federal guidelines. According to
data
from the California Department of Education and U.S. Department of Education, approximately 66.6 percent of student in Los Angeles County were eligible to receive free or reduced-price school meals during the 2017-17 school year. In the Hart District during the 2016-17 school year, 6,009 students were eligible for free meals and 7,254 students were eligible for free or reduced-price meals, according to data from the
California Department of Education
. Households that are eligible for the National School Lunch Program and/or School Breakfast Program will receive a notification letter saying that all children automatically qualify for free meals. This automatic eligibility occurs when any household member receives benefits from CalFresh/Supplemental Nutrition Assistance Program (SNAP), CalWORKs/Temporary Assistance for Needy Families (TANF) or Food Distribution Program Indian Reservations (FDPIR). Children are also eligible for free meals if they meet the definition of foster, homeless, migrant or runaway. Households that receive Special Supplemental Nutrition Program for Women, Infants, and Children (WIC) benefits, may be eligible for free or reduced-price meals if they fill out an application.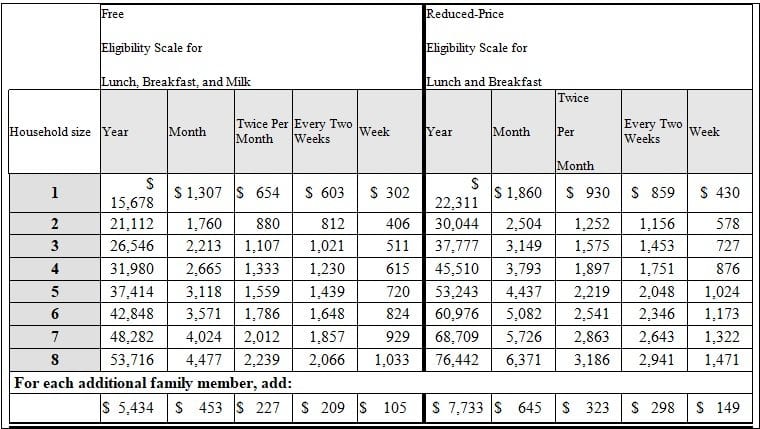 Households that did not receive an eligibility notice but would like to appeal for free or reduced-price meals must submit a complete application to the Hart District to determine each child's eligibility. According to the Hart District, meal applications were already distributed to all student households with a letter informing parents and guardians about the availability of the National School Lunch Program and School Breakfast Program. Households are able to turn in applications for the programs at any time during the school year.  They will be notified via email if their application is approved or denied for free or reduced-price meals. For returning students, their eligibility for the 2016-17 school year will continue into the 2017-18 school year for up to 30 days or until the district processes a new application or the students are otherwise certified for meals. After 30 days, the returning students will have full-priced meals unless they receive a notification letter. If a household is not eligible for the program now but household income goes up, household size goes up or a household member starts receiving CalFresh/SNAP, CalWORKs/TANF or FDPIR, they may turn in an additional application to the district. Foster children are eligible for free meals and may be included as a household member if the foster family chooses to also apply for the non-foster children on the same meal application. According to the district, including foster children as a "household member" may help the non-foster children in the household qualify for free or reduced-price meals. But, if the non-foster children are not eligible, it will not impact the foster children's eligibility for free meals. Information on each meal application will be used to determine eligibility and may be verified at any time during the school year by school or district officials. The district is required to check the last four digits of an adult's Social Security number or verify that an adult does not have a Social Security number if income is included on the meal application. To apply for free or reduced-price meals through the Hart District, submit completed applications for each child to the child's school or to the district's office for processing. Additional copies of meal applications are available at each school's office, at the district office or online at
www.hartdistrict.org
under the "Students" dropdown menu, Breakfast/Lunch Program prompt.
Applications may be sent to the district at:
WSHUHSD ATTN: Carolyn McMahon, 21380 Centre Pointe Parkway, Santa Clarita, CA 91350
To discuss district decisions and results of verification call 661-259-0033 or write to the district at:
WSHUHSD, ATTN: Chief Financial Officer, 21380 Centre Pointe Parkway, Santa Clarita, CA  91350
If any student in a household is not listed on a notification letter, contact the district official Carolyn McMahon at

[email protected]

.