Nearly two-thirds of educators find work always or often stressful which is twice the level felt by workers in the general population, according to a new survey from the American Federation of Teachers and the Badass Teachers Association. The data comes from the "
2017 Educator Quality of Work Life Survey
," which surveyed nearly 5,000 teachers and school staff members around the country. Fifty-eight percent of respondents noted that their mental health was "not good" for seven or more of the past 30 days, reflecting a large increase from the 34 percent of respondents who described their mental health was "not good" in 2015. In addition, 61 percent said they were often or always stressed and more than half agreed that they have less enthusiasm now than at the beginning of their careers.
"Educators in America continue to report stress levels that exceed the national average. Educators work with our most valuable resource—children," said Marla Kilfoyle, executive director of the Badass Teachers Association, in a
statement
.  "We must continue to push for schools that respect educators and the work they do with our children." The survey cited various causes for the increased stress among teachers including having little influence over policy decisions and professional development, working long hours, experiencing teacher shortages and feeling a lack of respect from federal and elected officials and the media. Specifically, the survey cited disrespect public school teachers felt from Education Secretary Betsy DeVos. "Teaching is a tough job that carries with it high levels of stress, which obviously affects both students and educators. Stressful work environments can affect student achievement and educator effectiveness, and can be mitigated by a collaborative culture that respects educators and the work they do," said AFT President Randi Weingarten in a
statement
. In addition, teachers reported being bullied, harassed or threatened on the job at higher rates than other professionals and reported sleeping less than the recommended average per night, which may contribute to worse health outcomes.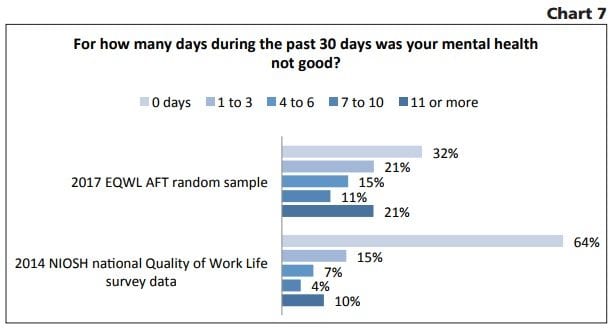 These high rates of teacher stress and health have been linked to higher turnover and increased absenteeism among teachers, as well as lower achievement for students and increased costs for school districts, according to a
2016 report
from the
Robert Wood Johnson Foundation
and Penn State University. To combat and mitigate the reported increase in teacher stress, the survey recommends that local unions and schools districts forge strong collaborative labor-management relationships, following models seen in the Solvay Union Free School District and the North Syracuse Central School District in New York. These models focused on good support for teachers, respect from supervisors, joint solutions to problems and shared responsibility for academic expectations. "The survey shows that a supportive work environment is vital to creating schools that are places where teachers want to teach and kids want to learn," Weingarten said.  "These kinds of environments do not come about by chance—they must be intentional."
[email protected]
661-287-5575 On Twitter as @_ChristinaCox_