More than a year ago, Sarah Krieg and her husband, Dan, were emotionally exhausted. The couple had been trying for eight years to grow their family and had recently gone through two unsuccessful rounds of In Vitro Fertilization (IVF). "It was emotionally and physically in the worst state I had ever been in," Sarah Krieg said. The couple had a one 3-year-old son, Lloyd, but they desperately wanted to give him a younger sibling. "All of Lloyd's best friends had little brothers or little sisters and he said 'When am I getting mine?'" Krieg said.  "We would have been happy with one child, but he needs someone to ground him, he needs a best friend and someone when we're old to go on road trips with and complain about how awful his parents are."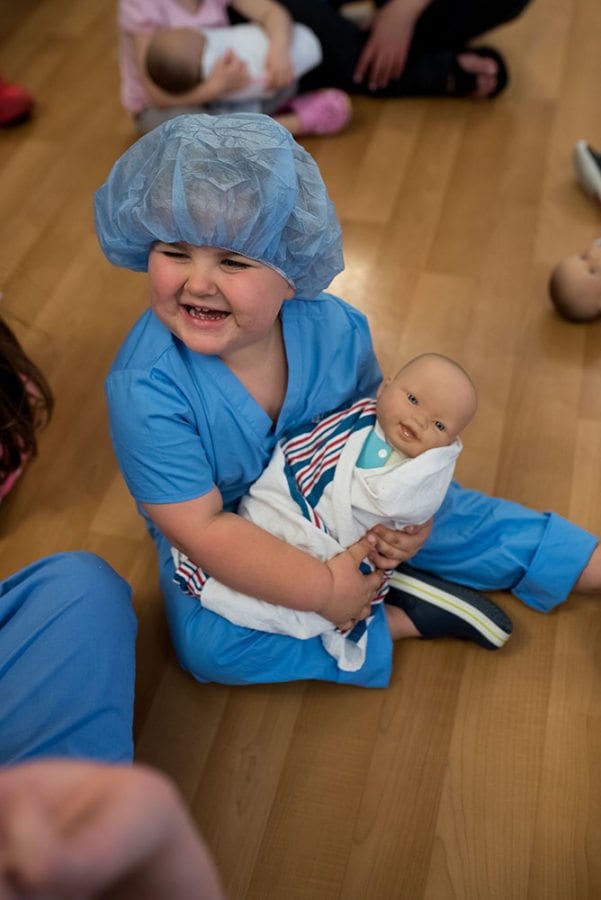 With support from their fertility doctor, Sarah and her husband decided to try a third, final round of IVF. "I was ready to quit.  It was my fertility doctor who encouraged us to do it.  He said 'it's on the house and I want to do it my way,'" Krieg said.  "He's the one that pushed us forward and I'm so glad he did because now we have these two beautiful babies that I would have completely given up on." Through all of the rounds and struggles of their IVF rounds, Sarah was sharing her IVF journey with her friends and family on her blog. "I had started a blog and was blogging about our experience.  I started it because I didn't have the emotional strength to go through where we were every time," Krieg said.  "The blog took off and I realized that there are tons of women going through this like me."
As she began her third round of back-to-back IVF cycles, representatives from a new Lifetime series "
This Time Next Year
," which follows individuals' emotional journeys to change their lives during one year, reached out to the family to feature them on the network's new show. The Krieg family was hesitant about the offer, but decided to agree to the show in order to help other families having their own fertility struggles. "By the time this opportunity came around I thought 'Oh no.'  What swayed me is the idea that if I can help one women who is in the place I was in and in the place I was feeling, then it's a win," Krieg said. The Krieg family set their goal for the year, which was to have another child, and filmed their first segment a year ago in front of a live studio audience. After filming their segment, the family was sent home and was told to document their journey with photos and videos themselves. "Going in, you have no idea if it's going to work, we just came off of two failing cycles," Krieg said.  "But we made two so I count that as an extra win." As a photographer and videographer herself, Sarah was looking forward to documenting the experience. "I can honestly say it was a hard pregnancy, I had a lot of complications and was on bedrest a lot," Krieg said.  "I have not seen the segment, but I'm never wearing makeup and, in most of it, I probably look homeless and I'm crying.  But that's okay because this is the other part of life and if we don't share it with each other then people going through it are going to think they're the only ones."
Throughout her difficult pregnancy, Sarah said she relied on the doctors and nurses in the maternity ward at Henry Mayo Newhall Hospital to calm her nerves and keep her and her twins healthy. "Henry Mayo was awesome and a big help, I cried a lot there," Krieg said.  "They knew me by name at 20 weeks at labor and delivery, it was such a team effort." The staff was also there for her when the water broke for one of her twins at 33 weeks and when she gave birth to her twins, Mabel and Walter, at 34 weeks on Father's Day.
"The whole staff is just awesome because we knew they were going to go to NICU," Krieg said.  "After they were born I was wheeled away and I couldn't see them for 24 hours because I was completely incapacitated… By that time I got there, the whole NICU staff had embraced them." After she was released from the hospital, Sarah continued to visit her twins in the NICU until Mabel was released at 18 days and Walter was released at 24 days.
"It was hard having your heart spread out across these three tiny humans," Kreig said.  "It was a good transition because Lloyd got to see them in their little boxes so he could process them… And now he has rolled with it.  He's never been jealous… He's loving them." Even if the third IVF cycle did not work, Sarah said her family still would have continued with "This Time Next Year" and tried to build up their family in other ways like adopting and fostering. "We would have moved forward with the show.  I'm in a support group with women and I have a friend in her 14
th
round of IVF.   For every success story there are women in the trenches trying," she said.  "No matter how our family story unfolded, I would want to tell it… We weren't perpetuating the masquerade that it works on the first try."
The Krieg's segment on Lifetime's "This Time Next Year" will premiere Tuesday, Jan. 30.
[email protected]
661-287-5575 On Twitter as @_ChristinaCox_