Although Thursday's forecast of rain didn't include any thunder, West Ranch girls soccer's Jenna Catalano was lightning. She briefly broke away from a staunch Crescenta Valley defense and bolted towards the top of the box as Falcons players rushed after her. Without pausing, she ripped a shot that nearly charred the back of the net. "I felt like I had to score," Catalano said. "It was the last five minutes and in order for my team to at least tie, we had to push all of our forwards and all our defense up and we just had to get that last goal and that's what we did." The sophomore's goal tied the game 1-1 moments before the final whistle was blown at West Ranch. The nearly 80 minutes leading up to that goal were cold, rainy and grueling. The Wildcats (1-0-1) maintained possession for the majority of the first half with their first scoring chance materializing on an offensive rush in the 10th minute. Eight minutes later, they had a golden opportunity on a set piece, but Falcons goalkeeper Phoebe Barnes reached over her head and nabbed the ball to prevent a goal.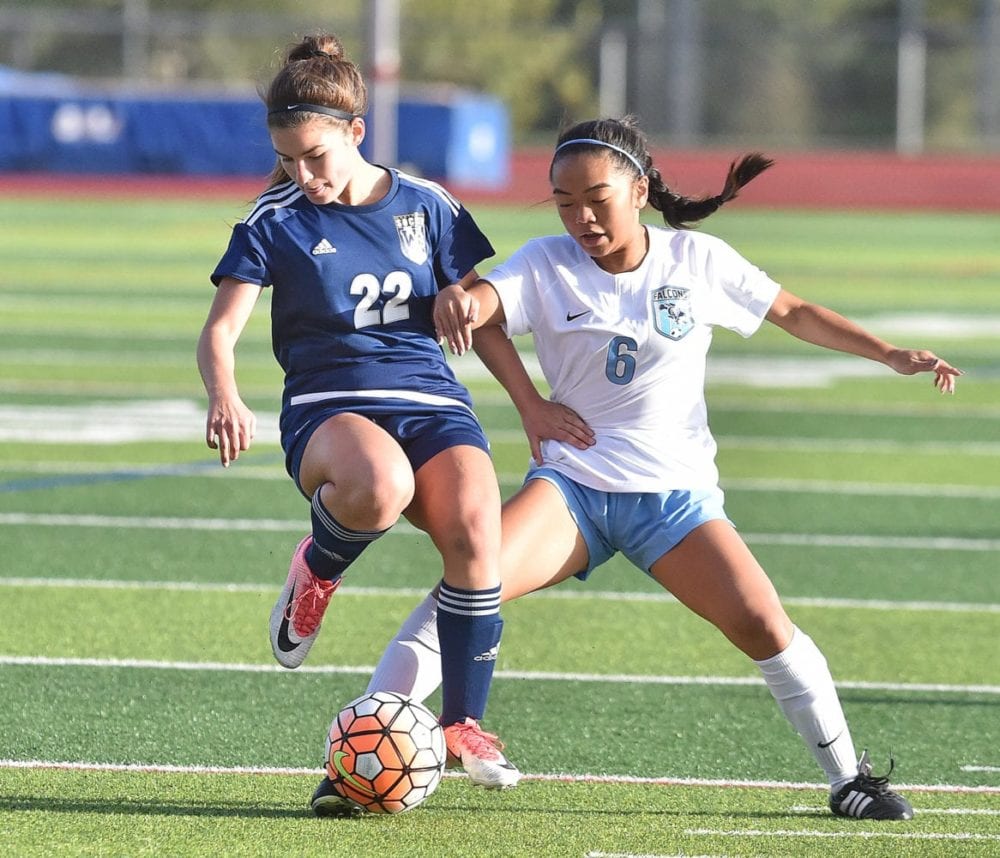 "They were just well organized," coach Jared White said of Crescenta Valley's defense. "They didn't make too many mistakes, they stayed nice and compact and didn't allow us a ton of space to get on the ball and do something. Our forwards got it and they pressured us." With six minutes left in the first half, an ominous rain cloud dumped buckets of rain on the field. The sheer volume of the rain caused low visibility and forced the officials to call an early halftime. "It randomly just started pouring down like hail and it hurt," Catalano said. "I barely could see the ball or anyone. The water was in my eyes and it was just like, really hard on my skin. I've never had that happen before." Both West Ranch and Crescenta Valley (1-0-1) sought halftime shelter in a large metal shed next to the field as the precipitation passed. The Wildcats' message was simple: Don't let the conditions distract you from the task at hand.
Halftime comes a little early (and is indoors) for West Ranch and Crescenta Valley girls soccer due to the rain. Extra time will be added to the second half to make up for it. pic.twitter.com/aYp9Thbgsv

— Haley Sawyer (@haleymsawyer) November 29, 2018
That message was reinforced after the Falcons' Chloe Ataya scored on a shot that went off the right post and into the net in the 64th minute. The Cats definitely had obstacles in front of them — including the rain, the deficit and a starting lineup that included two freshmen — but none were going to hold the team back. "This team is pretty self-motivated," White said. "It's just trying to help them overcome some of the obstacles that we can't control and weather being one of those and trying to stay focused and mentally tough is going to be key." Catalano's goal came in the waning minutes of the game, but it's a good indicator of what's to come for West Ranch. The cliche claims that lightning never strikes twice, but the Cats are primed to prove that wrong. West Ranch next plays Immaculate Heart today at 3:30 p.m.