Los Angeles County Firefighters tirelessly used the Jaws of Life to extract the "bodies" of two students from a car while a Santa Clarita Valley Sheriff's deputy conducted a drunken driving test on the sidewalk at Hart High School. Approximately 1,200 Hart High School junior and senior students watched the simulated scene unfold in front of them Thursday morning as part of the biennial "Every 15 Minutes" program. The two-day simulation is designed to inform teenagers of the dangers and consequences of reckless driving, distracted driving and driving under the influence.
"I think it's very influential on the kids," California Highway Patrol Officer Josh Greengard said.  "It's obviously very emotional for the participants and for the audience; the audience being the students." The DUI and distracted driving crash staged at Hart mimicked the emergency procedures and response of an actual collision on the roadways. First responders arrived to the scene to assess the situation and evaluate injuries before paramedics arrived to transport the injured and firefighters began to remove the "bodies" of two students who "died" in the crash. An individual dressed as the Grim Reaper stood nearby.
Students removed from classes
Several students were visibly impacted by the simulation, as they hugged one another and cried as the scene continued and ended. "Today was just a simulation.  Hundreds of people left their homes this morning and experienced this," Hart High School Principal Collyn Nielsen said to the crowd.  "We take on a tremendous responsibility when we get behind the wheel of a car."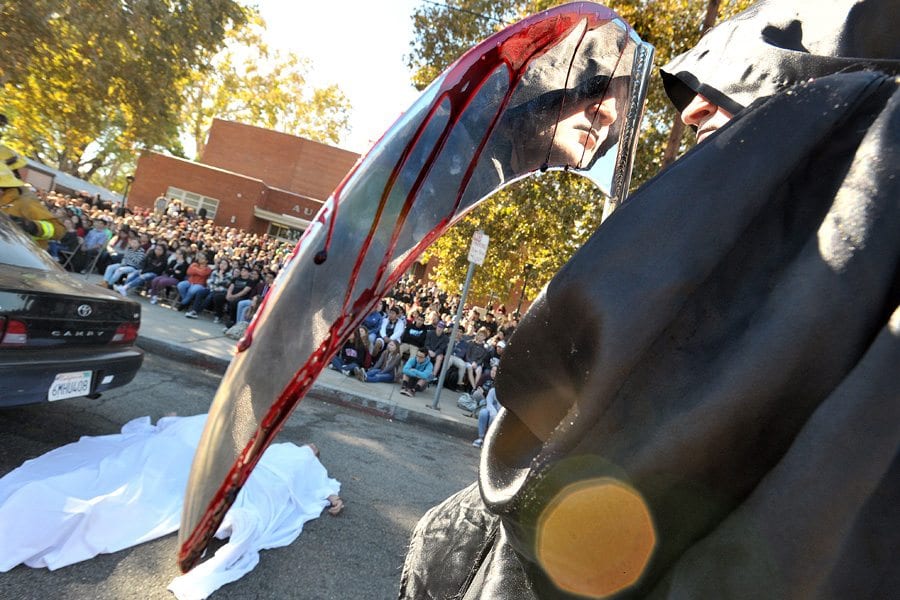 Day one of the program also included the removal of participating students from class every 15 minutes as if they were lost in a traffic accident.  Those taken from class wore makeup and an Every 15 Minutes T-shirt, and were unable to talk for the remainder of the day. Layne Latorre and Madi Fay were both pulled from their classes in the early morning.  Both students hoped the program will encourage others to think about personal safety and responsibility. "I hope everyone knows the responsibility that comes from driving a car," Fay said.  "It's not just you on the road."
"It can happen to you; it's not just happening to other people," Latorre echoed.
'Loss' of best friend
Hart High School student Rylee Myers said the event was a "wake up call" for the dangers on the road, especially since her best friend was chosen as someone who was killed in an accident. "It is only the first day of this program but it has already taught me so much," Myers said. "The fact my best friend was chosen impacted me very much and has taught me to cherish the time we have not only with our family, friends, and loved ones, but to make decisions carefully," she said. Myers encouraged her peers to always evaluate the situations they are in, to make smart decisions and to ask for a ride home if they have been drinking. Greengard said he believes the education is working to some degree to reduce the amount of students who drive distracted or under the influence. "Obviously it's working because they used to say every 15 minutes a child would die and that's what we go with, but the statistics are now in the mid-40s," he said. Despite the lowered national statistics, distracted driving and driving under the influence is still a topic of concern for those in the Santa Clarita Valley where students are still reminded of driving safely. "Remember to drive defensively," Nielsen said.  "Make good choices; save lives." ccox@signalscv.com 661-287-5575 On Twitter as @_ChristinaCox_