A search party to look for Will Cierzan missing now for more than a month from his home has been scheduled to assemble in Valencia Saturday morning. A member of the Santa Clarita Valley Sheriff's Station Search & Rescue team contacted Cierzan's family this week with news they would attend and monitor the first formal search for the missing man on Saturday at 8 a.m., Cierzan's sister Andrea Peck told The Signal Friday. The search was launched by grass-roots organizer Kari Hewitt of SCV Emergency Now, motivated, she said Friday "because there's been no change, no breaks, and we take care of each other" Search party participants, expected to include family and friends, were asked to meet in the parking lot of the Albertson's store on Copper Hill Road just west of McBean Parkway, she said.
"The thing I want to know is – why now?" Peck said, adding she's mystified about the timing of the search and its starting location. "They've told us nothing," she said, referring to homicide detectives investigating the disappearance. "The only thing they said was 'wear green.'" Although search party officials did not reveal what area would be searched, the closest non-residential area near the meeting spot is the San Francisquito Creek, east of the shopping center parking lot. Flood waters moved into the creek after the last big storm on Feb. 17, sending torrents of water through the creek over the course of that weekend.  By Feb. 20, however, water flow through the creek was reduced to a trickle. Det. Ralph Hernandez of the Los Angeles County Sheriff Department's Homicide Bureau told The Signal Thursday he has no new information to share about the case and that he and Homicide Bureau Det. or John Carlin are working diligently to solve the mystery.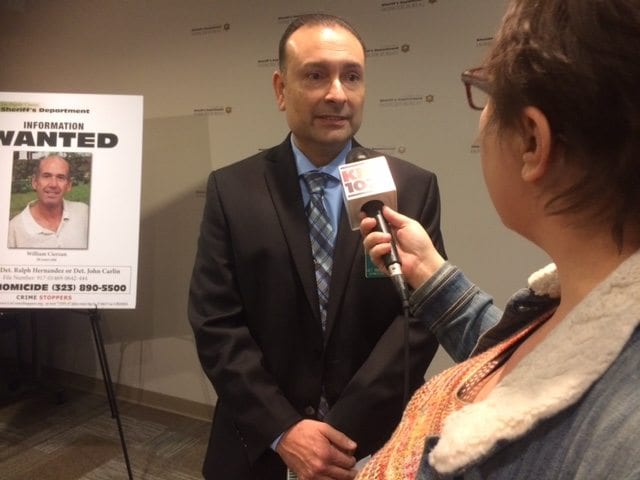 On Jan. 26, the day he went missing, Cierzan, 58, was at his home on Cuatro Milpas Street, near Seco Canyon Road, watching golf on TV with his nephew Daniel Cierzan. Cierzan talked to his wife, Linda, about 5 p.m. that day and told her he was cooking dinner. At 7 p.m., when his wife arrived home, Cierzan was nowhere to be found, Peck said. Left behind in the house were his wallet, keys and jacket. Hernandez said that he interviewed several people in the case including Cierzan's wife, Linda, and his nephew Daniel, who turned 21 years old on Tuesday. Despite the discovery of blood inside the Cierzan home and video surveillance footage of a white SUV seen backing into the Cierzan driveway the day he vanished, the case is still being investigated as a missing persons case, Hernandez said. "We're still working hard on this," he said Thursday.
When asked if they learned anything from the blood evidence gathered from inside the Cierzan home or from the enhanced video image of the white SUV backing into the driveway at the home, he said: "no comment." Anyone with information about possible sightings of Cierzan or sightings of the white vehicle seen Jan. 26 should get in touch with detectives at 323-890-5500. jholt@signalscv.com 661-287-5527 on Twitter @jamesarthurholt