The pass was low and hard. The ricochet off a receiver's foot was returned to sender. Saugus High quarterback Nathan Eldridge completed a third-quarter pass to himself for a short gain. On the next play, he lofted the ball into the end zone, where Keith Brooker leapt and snatched it for a 16-yard score. But on this night, even in moments when the ball bounced decidedly Saugus' way, Bishop Diego of Santa Barbara answered with a gut punch — namely with powerful runs from John Harris, who eclipsed 300 yards in the Cardinals' 45-27 win over Saugus on Friday at College of the Canyons in a CIF-Southern Section Division 6 semifinal. Brooker's aerial grab — the second of his three TD catches — cut Bishop Diego's lead to 31-21 late in the third. And Saugus (6-7) forced the No.-1 seeded Cardinals (12-1) into a fourth-and-1 at their own 42 on the following drive.
Eldridge and Brooker connect on third TD of the night. Cents now trail 45-27. 2:40 to play.

— Mason Nesbitt (@mason_nesbitt) November 25, 2017
But Bishop Diego's wrecking ball smashed designs of a comeback. The 6-foot-2, 205-pound Harris burst through the line to fields of green, a stiff arm springing him for a 58-yard touchdown. "They were a much tougher team than I think we prepared for them to be," said Eldridge, who threw for 239 yards, three touchdowns and two picks. "They balled out." Saugus coach Jason Bornn believed his defense could slow a Cardinals attack that averaged 44 points a game entering the night and that featured two burly backs. That wasn't the case. Harris scored on runs of 80, 58 and 58 yards and finished with 305 yards on the night. Cardinal Adrian Sorocco ran for 90 yards in an eerily similar outcome to last year, minus the drama. In last season's 25-23 quarterfinal loss to Wilson of Long Beach, the Centurions allowed Jacobi Hardy to rack up 283 yards and three touchdowns. Saugus might've hung with the Cardinals on Friday, though, had it not been for three turnovers. Eldridge completed a 48-yard touchdown to Brooker on his first pass attempt, but the QB cut his throwing hand on the play.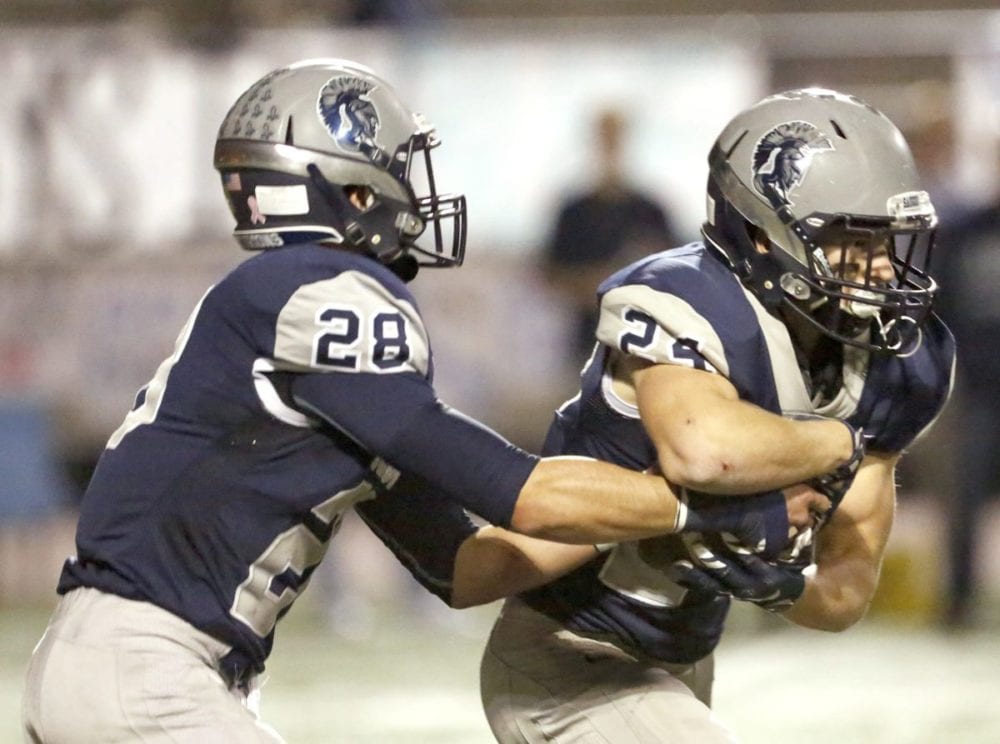 So, with the score tied 7-7 late in the first quarter, Saugus' backup temporarily went in and fumbled a snap. Bishop Diego pounced on the ball and scored on the next play, quarterback Jack Engel hitting Isaiah Veal in the back of the end zone from 32 yards out. Veal held on even as he collided with the goal post. He hopped to his feet. Bishop Diego wasn't finished. After a Cardinal field goal made it 17-7, Saugus running back Quinn Sheaffer rumbled for 67 yards down to the Bishop Diego 7. He scored from 3 yards out later on the drive to cut the deficit to 17-14 with 5:05 left in the first half. But, again, Bishop Diego answered. On the Cardinals first play of the ensuing drive, Harris went 80 yards, mostly untouched. Sheaffer tallied 115 yards of his own in the first half, but as the game got away, his touches were limited. He finished with 153 yards, the last 20 coming on his final carry, long after Harris' scamper on fourth and 1 put the game away for good. "I thought we had a good game plan," said Bornn, whose team was playing in its first semifinal since 2013. "Obviously the turnovers late in the first half hurt us. It's tough to bounce back like that. You can't give a team like this opportunities." Said Eldridge, "I'm proud of the way the team fought. I'm proud of how far we made it."