In its second year of competing in the CIF-Southern Section Division 1 playoffs, the Hart girls soccer team looked the part of a Division 1 team. That's not to say they weren't ready for top-level soccer last season. This time around, the Indians looked to be in their natural element in a 2-1 win over Westlake at home on Thursday. "I think the main thing that we're coming into this year with is composure," said Charlie Martinez. "We know what it's all about and we know what we've got to do to get where we want to be."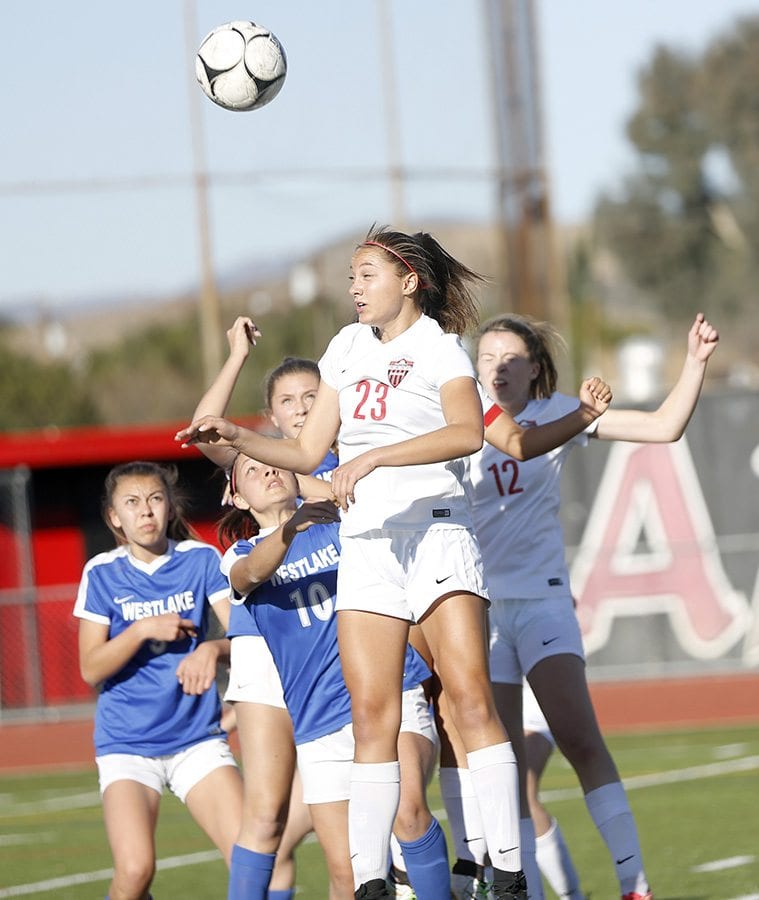 Martinez was one of two midfielders to score for Hart (18-5-1) on the afternoon. Her goal came in the 43
rd
minute off an assist from fellow midfielder Megan Sheehe. "It kind of just came," Martinez said. "I don't know if you know about those moments where its like, your body knows what to do, that muscle memory. My player had a great pass back, so it wasn't hard to deal with it and make something good out of it." Westlake (6-5-7) countered with a goal of its own in the 51
st
minute due to an Indian turnover and a little help from a windy afternoon. Megan Sheehe scored in the 57
th
minute. She coasted up the middle of the field and when the Warriors' keeper slid out of position on a save attempt, Sheehe tapped the ball in from the top of the box.
A goal from Megan Sheehe pulls Hart ahead 2-1 in the 57th minute. pic.twitter.com/LcwQq2dfB8

— Haley Sawyer (@haleymsawyer) February 16, 2018
"I was really excited because the midfielders, they work so hard and they go box to box, they cover so much ground and they don't get rewarded as much as they deserve," said coach Guilherme Mitrovitch. "It shows that our midfielders can play, not just defend. They're good on the ball, they're good on the attack and I'm just really excited for them because they don't get a lot of goals, but they deserve so much." Hart will play either Millikan or Santiago in the second round of playoffs on Feb. 20.
Canyon 1, Sierra Canyon 0
Analise Rappe scored for the Cowboys in the CIF-SS Division 3 playoff game. Canyon moves to 11-7-2 with the win and will play Marymount on Feb. 20.
SCCS 6, Mojave 0
Kalona Marr led the Cardinals (14-4) with two goals and one assist in the shutout. Sydney Boswell and Abigail Patterson added one goal and one assist apiece. Kelly Gale and Ellyanna Edwards each chipped in one goal. SCCS will play Pacific Lutheran at El Camino College in the next round of the CIF-SS playoffs on Tuesday, Feb. 20 at 3 p.m.