A recent report released by the United States Drought Monitor reveals that nearly half of California is no longer in drought conditions.
The news is an improvement from one year ago when more than 95 percent of the state was experiencing moderate to exceptional drought conditions and 100 percent of the state was abnormally dry.
The month's series of powerful storms and increased snowpack helped move Northern California out of drought conditions with no signs of abnormal dryness two weeks ago.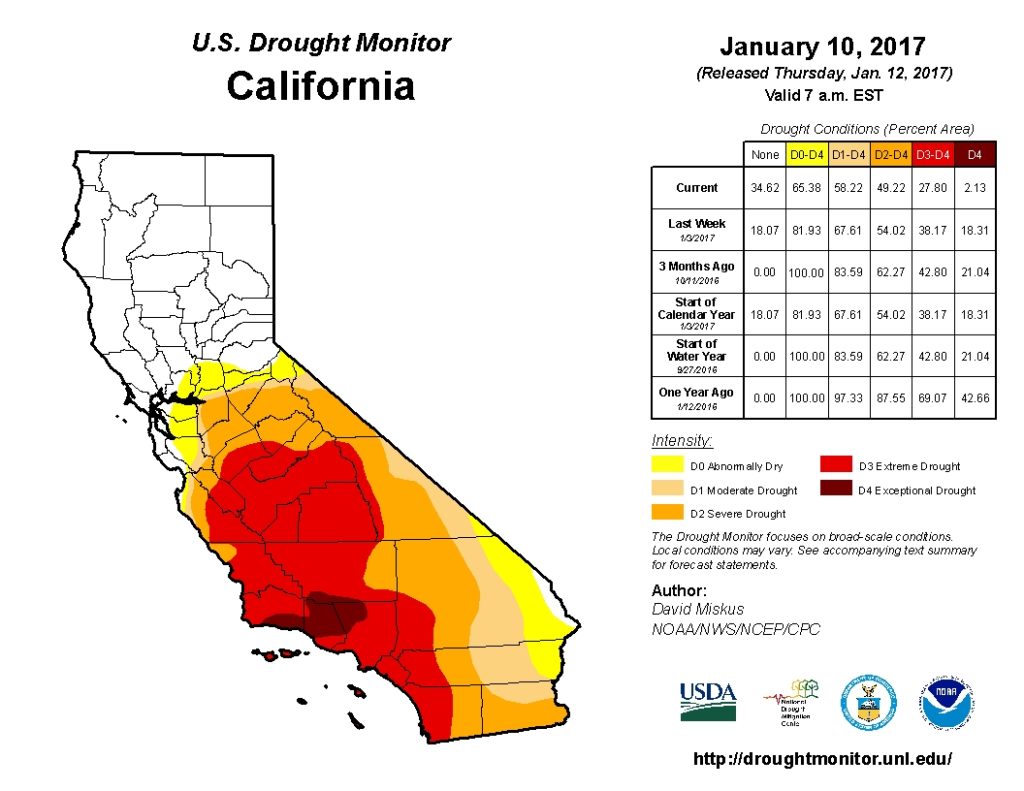 Now, that good fortune is beginning to show in the southern parts of the state which is no longer experiencing any signs of exceptional drought.
Only a little more than 2 percent of the state, in an area stretching across parts of Los Angeles County, Ventura County and Santa Barbara County, are in extreme drought conditions, or D3.  Last week, extreme drought conditions were impacting more than 25 percent of California.
"It remains at D3 because there hasn't been enough rain in the local area," National Weather Service Meteorologist David Sweet said.  "There has not been enough rain to generate the kind of response they [the U.S. Drought Monitor] look for to lessen it further."
However, despite the improvements, the state is still under a drought emergency issued by Gov. Jerry Brown in January 2014 to cut state water use by 25 percent.
This month, eight inches of rain fell on the Santa Clarita Valley, but officials say the heavy rainfall is only an improvement for short-term drought conditions and that the long-term impacts of the five-year drought still remain.
"It's not the not the end of the drought, it's just a lessening for the conditions of the drought," Sweet said.  "We still have to be very concerned about conserving water."
Drought conditions are also improving across the county, will no regions currently affected by exceptional drought conditions, or D4 drought conditions.
"At this point the country is free of D4 or exceptional drought for the first time since March 29, 2011," Sweet said.
According to Sweet, only 0.44 percent of the lower 48 states are under exceptional drought or extreme drought conditions.
"That is now at its lowest point since Oct. 5, 2010," he said.
[email protected]
661-287-5575
On Twitter as @_ChristinaCox_