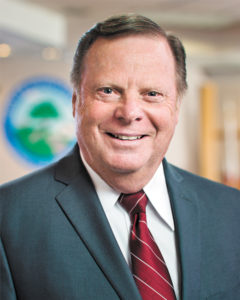 As we approach Memorial Day our attention rightly turns to honoring those that have given their lives to protect the freedoms we enjoy in the United States, as well as the men and women who continue to defend our country and keep us safe both at home and around the world. In Santa Clarita, nothing is closer to our hearts than the well-being of our residents who serve and we take this time to focus on how our community is made stronger by the sacrifices made my our military heroes and their families.
One of the ways we honor those in the military is through our Hometown Heroes Military Banner Program. The program was established by the City of Santa Clarita as a way to recognize and pay tribute to currently serving, active duty personnel in the Army, Navy, Air Force, Marines and Coast Guard that are either Santa Clarita residents or immediate family members of current residents.
Our next installment of Hometown Heroes banners will go up this coming Monday, May 22, at various locations throughout the City. I encourage you to stop and learn more about our Hometown Heroes by reading the banners that will be placed in Canyon Country, Newhall, Saugus and Valencia, and also visit the Fallen Warrior Memorial Bridge to see our Gold Star military banners. In addition to the Memorial Day weekend, Hometown Heroes banners will also be installed throughout Santa Clarita for the Fourth of July and Veterans Day.
I also want to encourage you to take the time to visit Veterans Historical Plaza, which is located at 24275 Walnut St., to spend time with family and friends and meet some of our very own Hometown Heroes. Veterans Historical Plaza itself was a victory for Santa Clarita, resulting from an effort by the City Council to secure $250,000 in state funds through the Department of Veterans Affairs to build a park to honor those residents that have served in the Armed Forces.
Veterans Historical Plaza is an elegant space that resembles a Victorian garden. This can be seen in the park's layout and architecture, which includes water features and story stations where you can learn about various military conflicts in our country's history. At one end of the plaza is an ellipsis comprised of a walkway made of engraved bricks honoring our military heroes over the years. The newest bricks will be installed the week before Memorial Day, so be sure to stop by to see them and the bronze statue of "Willie, the Drummer Boy" by artist Mark Henn.
We are also excited by the progress being made on our community-funded Fallen Warriors Monument, to be installed at Newhall's Veterans Historical Plaza shortly before Veterans Day this year. Our Fallen Warriors Monument is an important undertaking by our community members and the City to rightfully honor all known and unknown Santa Clarita Valley residents who have lost their lives while serving our country in War since World War I. Over 180 residents have contributed to this project, completely funding its construction and installation, with additional funds available for site maintenance and supplies.
Another important event coming up is the Annual Memorial Day Celebration that will take place at 10 a.m. at Eternal Valley Memorial Park & Mortuary, located at 23287 N. Sierra Hwy. in Newhall. This event brings the community together to celebrate the lives of our fallen heroes. Following the ceremony, there will be a reading of the more than 1,100 names inscribed on the Veterans Memorial Wall at Eternal Valley.
Memorial Day this year is on Monday, May 29. While the long weekend allows us to spend time with our loved ones, please keep all of our military heroes and their families in your thoughts.