In the last minutes of her short life, Courtney Arvizu was leaving her abusive husband. She was demanding the landlord let her into the apartment for her things, and grabbing an overnight bag of lotion and face wash. But, she didn't make it, the prosecutor said Thursday summing up her murder case against her husband. Robert Arvizu, 50, stands accused of murdering his newlywed bride of just two months after they were married on May 23, 2015. His jury trial at San Fernando Superior Court began a week ago.
Evening of
On May 23, 2015, at the end of a frenzied evening, punctuated with violence, threats and allegations made by her husband of infidelity, Courtney was grabbing her belongings, collecting her dog, and planning to walk across the street to her mother's place, Deputy District Attorney Julie Kramer told the jury in her closing remarks Thursday. "She didn't make it across the street to her mom's house," Kramer said. "She was so close to getting out the front door." Instead, the 25-year-old's body was found just inside the apartment door, her face bloody – the overnight bag found nearby containing fragments of blood. The body of Courtney Arvizu, was found inside her husband's Newhall apartment on 9th Street between Newhall Avenue and Chestnut Street, shortly after 1:30 a.m. on Sunday May 24, 2015. During the trial this week, however, it was revealed how Courtney Arvizu actually died. Homicide detectives had originally believed – due the injuries on her head and face – that she had been bludgeoned to death.
Smothered
She had been punched in the face and then smothered to death, Kramer told jurors: "He hit her in the face and when he wasn't satisfied with that he smothered her. "He decided to kill her," she said. "She was smothered either by using his big hands or by pushing her face down on her overnight bag. "In either event, her nose and mouth were covered," Kramer said. "She was struggling to breathe, then she passes out and she loses consciousness. "He had time to weigh the options. He could have taken his hand off her mouth but he doesn't do that.  He continues (smothering her) for three to five minutes, weighing what he's doing," she said. "Eventually, she stops breathing," Kramer said. "He doesn't call for help.  He goes to sleep." And, the prosecutor sought testimony of past behaviors.
Ex-Girlfriends
The prosecutor asked the jury to reflect on the testimony presented during the trial by two of Robert Arvizu's ex-girlfriends. "So what do Erika S., Danette R. and Courtney have in common?" she asked. "They were all younger than the defendant. They were all accused of cheating.  They were all strangled. All suffered physical abuse. "Why is Courtney different?" Answering her own question, Kramer said: "Erick S. and Danette R. survived."
Marriage of violence
"Her marriage to the defendant started with violence and ended with violence," Kramer said, referring to a March 2015 choking incident in Las Vegas. It happened the day after they were married. About Courtney's death, Kramer said: "What happened to her was not the normal reaction of a jealous husband.  This was premeditated, based on a pattern of abuse towards women." Kramer summed up the testimony of witnesses who interacted with Courtney and Robert Arvizu on the evening of May 23, 2015 – her death. Things turned sour for the couple that night in 2015 at an outdoor barbecue party during which the defendant accused his wife of flirting with another man, calling her "a lying cheating whore" in front of party guests. Party guests separated the two – Robert Arvizu leaving the party with an Eric Shapiro, Courtney leaving on her own. Kramer recapped testimony of neighbors who encountered each of them separately later that same night as they each returned separately to Robert Arvizu's apartment on 9th Street. Her recap of the events, culminated with the testimony of Maria Flores, the tenant who lives in the apartment directly under the Arvizu apartment who said she heard a loud thump at 10:01 p.m. that night. "She was hearing Courtney's body being banged onto the floor," Kramer told jurors. When Kramer wrapped up her case, jurors were given a 15 minute break, then called back into the courtroom to hear closing arguments presented by Arvizu's lawyer C. Edward Mack.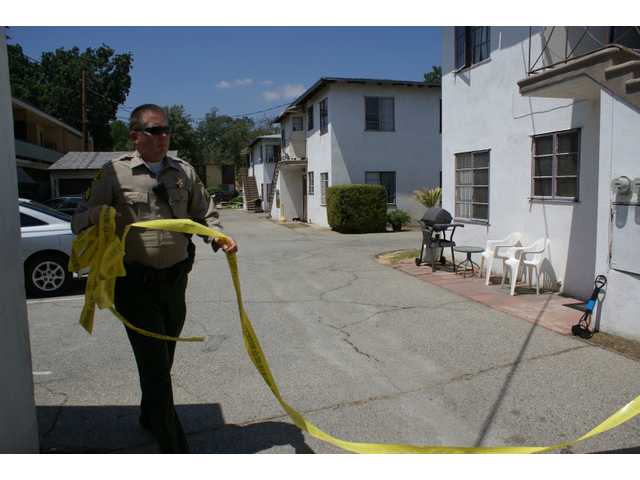 Defense case
"The fact that Courtney Arvizu is no longer with us touches a lot of people deeply, as I'm sure it touches you," he told the jury. Before he began challenging the testimony of prosecution witnesses, Mack showed jurors the projected image of an iceberg which he called Kramer's "mountain of evidence." Mack questioned the circumstances of Courtney being found dead by Santa Clarita Valley Sheriff's Station deputies, who kicked down the door to the apartment when a flashlight beam cast through a partially open chain-connected door revealed Courtney's legs. "Nobody knows what happened inside that apartment," Mack said. "She (Kramer) can speculate.  But, the bottom line is that nobody knows. "He hit her.  She fell on the floor and he fell on top of her," Mack said. "It could have happened. We don't know."
Testimony questioned
Mack picked holes in the testimony of each prosecution witness, concentrating on his client's ex-girlfriends. "You have to take into account her conviction for stealing," he said of witness Erika S. "Is this the type of person who would tell a lie? "I have a character issue with Danette," he said, challenging her testimony recalling incidents of physical abuse – in one case, being pushed against a counter and threatened with a metal bar and on another occasion being strangled to the point unconsciousness. Mack urged the jury to weigh her testimony of being terrified against her testimony of returning to her attacker repeatedly. "Now she's free and clear," Mack said, recapping one incident of abuse. "She goes back to him again. He says he's going to kill himself. You think someone whose been told they're going to kill you – that you're so fearful he's going to kill you and your family – would not go (back). "It doesn't add up. If he kills himself you won't have that (threatening) issue anymore. Why did you do it again?" Mack said, referring to Danette going back to Arvizu. "That's a hard sell," he said. Mack was expected to continue delivering his closing remarks Friday morning. jholt@signalscv.com 661-287-5527 on Twitter @jamesarthurholt