Video by Austin Dave
The county coroner has identified the man killed in a crash involving a sedan that crashed into a big rig on Highway 14 early Friday morning as 26-year-old Manuel Michael Luna, of Palmdale. An autopsy is pending, said Assistant Capt. Ed Winter, of the Los Angeles County Department of Medical Examiner-Coroner. The collision was reported on the shoulder of the southbound lanes, just north of the Golden Valley Road off ramp, according to Officer Patrick Kimball of the California Highway Patrol. A sedan collided into the rear of a big rig that was parked on the shoulder at approximately 12:17 a.m. "The (driver of the sedan) was pronounced dead at (12:34 a.m.)," Kimball said. The man wasn't immediately identified, Kimball said, adding the initial report noted he was a Hispanic man. About 10 minutes after midnight, a black BMW was traveling southbound on State Route 14,  approaching Golden Valley Road, at a high rate of speed, according to a news release issued by CHP Officer Josh Greengard. A white Freightliner truck was traveling southbound on Highway 14, in the No. 4 lane — commonly referred to as the slow lane — approaching Golden Valley Road, ahead of the black BMW.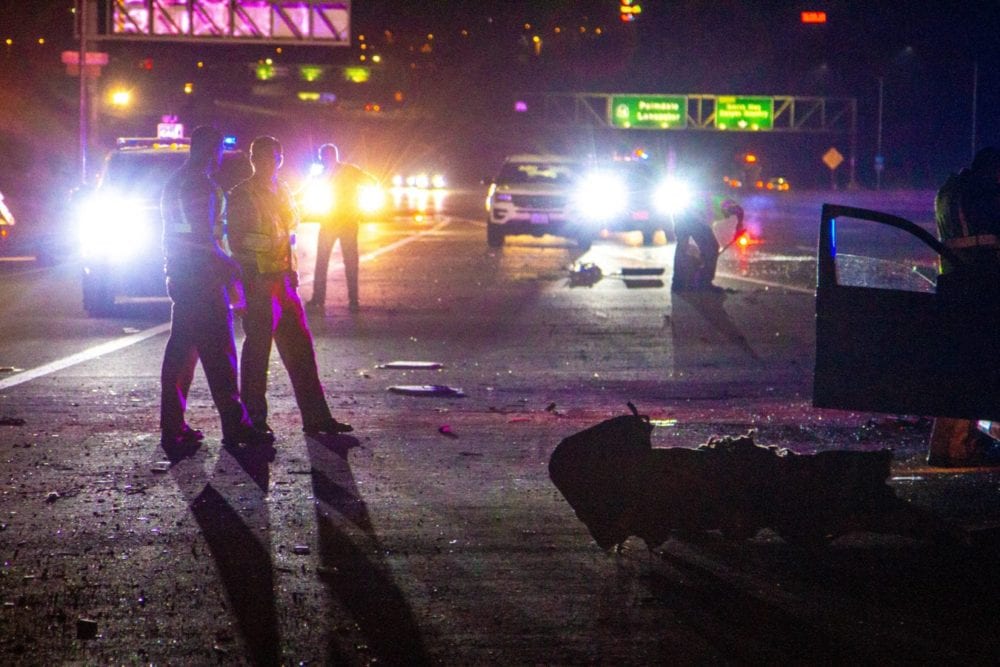 The driver of the black BMW collided into the rear of the Freightliner's trailer. As a result of the collision, the BMW driver — later identified as a Luna — succumbed to his injuries at the scene. The driver of the of the white Freightliner suffered no injuries as a result of the collision.
Excessive speed, alcohol and drugs may be contributing factors for the cause of this collision; however, a thorough investigation is ongoing, according to the CHP news release. Los Angeles County Fire Department officials received a call at approximately 12:18 regarding the crash, according to Supervisor Michael Pittman of the Los Angeles County Fire Department. No one was transported from the scene. This crash prompted the closure of two southbound lanes, the No. 3 and 4 lanes, as well as the Golden Valley Road off-ramp, for approximately three hours. The roadway was reopened shortly before 3:30 a.m. This collision is under investigation by investigators at the CHP's Newhall Station. The Santa Clarita Valley has seen 14 people killed in traffic collisions this year. Two fatal crashes happened in January and are being investigated by detectives with the Santa Clarita Valley Sheriff's Station. An additional 12 people died in 10 crashes investigated by the CHP. Although the numbers indicate a fatality every other week on average, CHP Officer Eric Priessman said the valley is doing better than last year. "We are ahead, compared to last year," he said Friday. "We have fewer fatals that we did this time last year." "We're on a good track for keeping that number down, compared to last year," Priessman said. Any witnesses are encouraged to contact the CHP at (661) 294-5540.
[email protected]
661-287-5527 On Twitter @jamesarthurholt