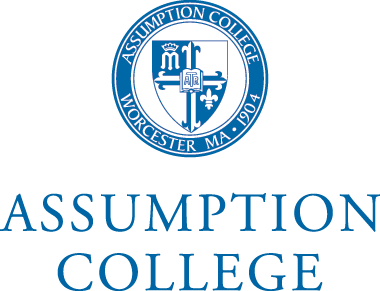 Assumption College
, Worcester, MA Assumption College has announced that
Callie Croughwell, of Santa Clarita
, is one of 590 students named to the College's prestigious undergraduate Dean's List for the spring 2018 semester. Croughwell is a member of the Class of 2018. To earn a spot on the Dean's List, Assumption students must achieve a grade point average of 3.5 for a five-class, 15-credit semester. The Dean's List is announced twice per academic year, once at the completion of the fall semester, and again at the completion of the spring semester. "The Dean's List recognizes students who have attained significant academic achievement," said Eloise Knowlton, Ph.D., Assumption College dean of undergraduate studies. "Earning a position on the Dean's List is a testament to a student's hard work and commitment to academic excellence. The College is proud to formally recognize these scholars, who demonstrate the seriousness with which they take the formation of their intellectual and academic lives." For more information about Assumption College, please visit
www.assumption.edu
.
Iowa State University,
Ames, IA At Iowa State University's spring commencement ceremonies, 4,809 graduates received degrees. Iowa State awarded 4,023 undergraduate degrees, 512 master's degrees, 144 doctor of veterinary medicine degrees and 130 doctor of philosophy degrees.
Natalie Pellegrino of Santa Clarita
received a Bachelor of Science, Business Economics, Cum Laude. Of the students receiving bachelor's degrees, 1,390 graduated with "With Distinction" (cum laude, magna cum laude or summa cum laude). 108 students graduated both with distinction and as members of the Honors Program. For more on Iowa State University visit
https://www.iastate.edu/
.
McPherson College,
McPherson, KS McPherson College, a four-year private liberal arts college located in central Kansas, recognizes its highest academic achievers in its spring 2018 Honor Roll and Honorable Mention.
Ian Canevari of Valencia
, Senior, Honor Roll. To qualify for the honor roll, students must be a full-time student and earn a grade point average of 3.55 or higher during the previous term. Students earning a grade point average of 3.25 to 3.54 are named to the honorable mention. McPherson College offers more than 20 bachelors and pre-professional programs with curriculum that emphasizes entrepreneurship and career-focused education. It was ranked this year by U.S. News & World Report on its "Best Colleges" list and recognized by Money Magazine for "Best Colleges for Your Money." The college was also recognized for the third year in a row as a "Great College to Work For" by the Chronicle of Higher Education. Visit
www.mcpherson.edu
to learn more about McPherson College
University of New England
, Biddeford and Portland, ME
Vanessa Rivera of Valencia
, has been named to the Dean's List for the 2018 spring semester at the University of New England. Dean's List students have attained a grade point average of 3.3 or better out of a possible 4.0 at the end of the semester. The University of New England is Maine's largest private university, featuring two distinctive campuses in Maine, a vibrant campus in Tangier, Morocco, and an array of innovative offerings online. Our hands-on, experiential approach empowers students to join the next generation of leaders in their chosen fields. We are home to Maine's only medical and dental colleges, a variety of other inter-professionally aligned health care programs, and nationally recognized degree paths in the marine sciences, the natural and social sciences, business, the humanities and the arts. UNE. Innovation for a healthier planet. Visit
www.une.edu