Trailing by 10 points at halftime, the College of the Canyons football team sat apprehensively in the locker room. Head coach Ted Iacenda entered. He spoke to his team of family and not giving up, regardless of the score. "To be honest, we just looked at each other, we looked left and right and were like, 'We got this,'" said running back Cayden Dunn. "We come together as a team. If we come together as a team we'll win this." And so they did. The Cougars scored 28 points in the second half to beat Bakersfield 42-30 to achieve their first undefeated season since 2008. Another promise fulfilled.
This is how you do a group picture. COC goes undefeated for the first time since 2008 after beating Bakersfield. pic.twitter.com/KoOcAcMFdz

— Haley Sawyer (@haleymsawyer) November 11, 2018
"This I promise" is on the back of every COC football player's helmet. It's a hashtag on Twitter. It's the conclusion of the "Cougar Prayer," a poem that has been recited before and after every game for years. "It's a pact between these guys that no matter what we're in this together," Iacenda said. "We will fight to the end and we're making a promise that we're together and it's a beautiful thing." Shaddrick Lowery, a team captain, currently leads the Cougar Prayer, but the tradition goes back to 1998. Receiver Kevin Rayburn penned the poem that year and it caught on quickly. Those who have recited it before still have an attachment to it. Alumni sign text messages to Iacenda with "This I promise." Players who move on to four-year football programs take it with them to their new schools, too. It's the one concrete thing that has been consistent for every Canyons team throughout the years. For the truly outstanding teams, however, there are more constants. Chuck Lyon, the current COC athletic director who coached the 2004 team to an undefeated season, a state championship and a national championship, sees similarities between Iacenda's 2018 team and his own 2004 team.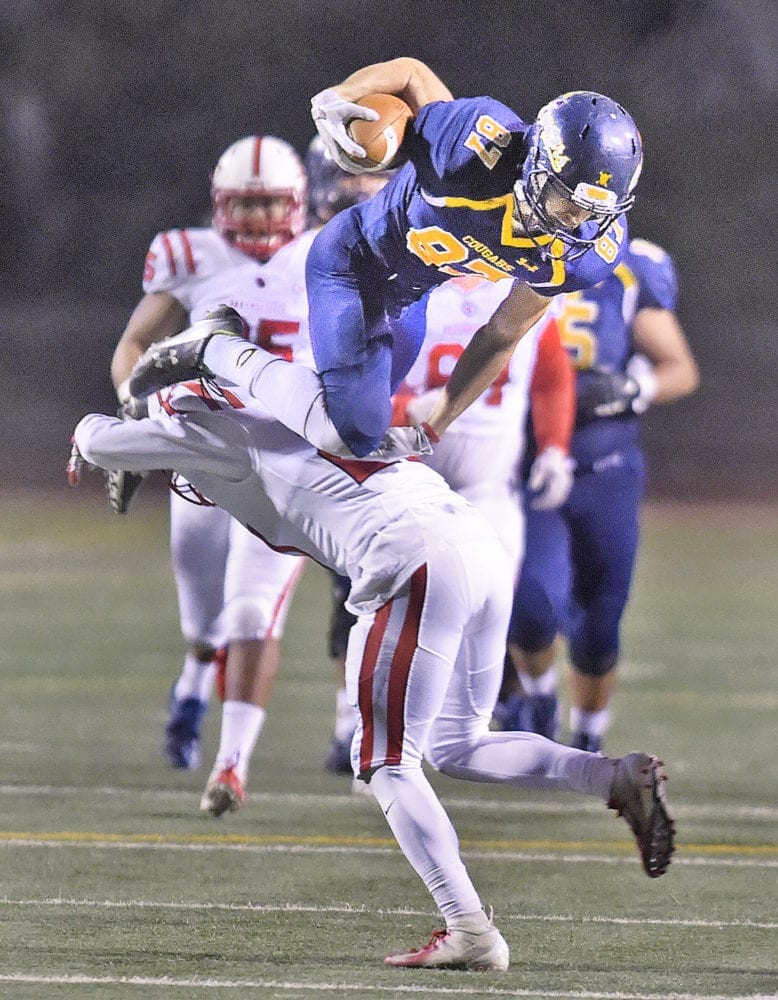 "I think this defense is maybe the best defense we've ever had at College of the Canyons," Lyon said. "The '04 team, I don't know, we gave up probably a few less points, but I really, really think this is a special defense and then with the speed of our receivers and our two quarterbacks, five freshmen offensive linemen, this is a special group. A really special group." Canyons now has five undefeated seasons in program history. It has 12 conference titles and one state title. Twenty-five alumni are currently playing for a four-year college football program. Two alumni are active NFL players. "We're starting to become something that you don't see very often, especially at the two-year level because kids come, kids go and it's hard to build that when you have 50 percent of a new team every year," Iacenda said. "But for whatever reason, we found a good recipe, we've got a good plan, and our boys buy in and they go to work." Part of the success stems from the sense of family that surrounds the team. While many players on the team are local to the Santa Clarita Valley area, hometowns from around the country – and around the world – sprinkle the Cougar roster. Some players come to COC straight out of high school. Others, like Dunn, join the team after being unhappy with their initial college choice. "I never really had a football family and you know, they came in, they gave me a family and I never had a doubt from the beginning," Dunn, who transferred prior to this season after a year at Northern Colorado, said. Each member of the Cougar family has a promise. Deshazor promises to never give up on the guy next to him. Dunn promises to honor his older brother's best friend, a former center for COC who died in 2016. Now, fresh off an undefeated conference championship season, there's a new promise for all Cougars to keep. "We're just trying to win and keep winning," Deshazor said. "Everybody wants a championship. That's why we've been so good this year. Everybody's hungry. That's what gives us that energy."