Santa Clarita Valley real estate agent begins boxing to get in shape, ends up winning five national titles
By day, he's a Santa Clarita Valley real estate agent. 
By night, he's a national champion boxer at the age of 55.
Jesus Arteaga is the son of a professional boxer. But Jesus Sr. did not want his son to follow in his footsteps.
"My father was a pro fighter," Arteaga said. "He didn't want me to be in that sport. He didn't allow it. So, I started late."
Arteaga didn't begin boxing until he was in his 20s. At the time, he was simply using it as a means to get in shape.
"I really just got into it to lose weight," Arteaga said. "I really didn't have any intent to get into it, but I started just training a little bit to lose weight."
It's been 30 years since he began his journey, and in that time, Arteaga has transformed himself into one of the top Masters Division boxers in the United States.
Arteaga said that because of his job, he was getting busier and busier and not eating as healthy as he would like. A little over 10 years ago, he went for a checkup and, to his shock, the doctor told him that he had high blood pressure and high cholesterol.
"I always played sports, so it was odd to me that I wasn't healthy," Arteaga said. "So, that's when I took it a little bit more serious."
When he first brought the idea of fighting in tournaments up to his wife, Irma, Arteaga said that she called him "crazy."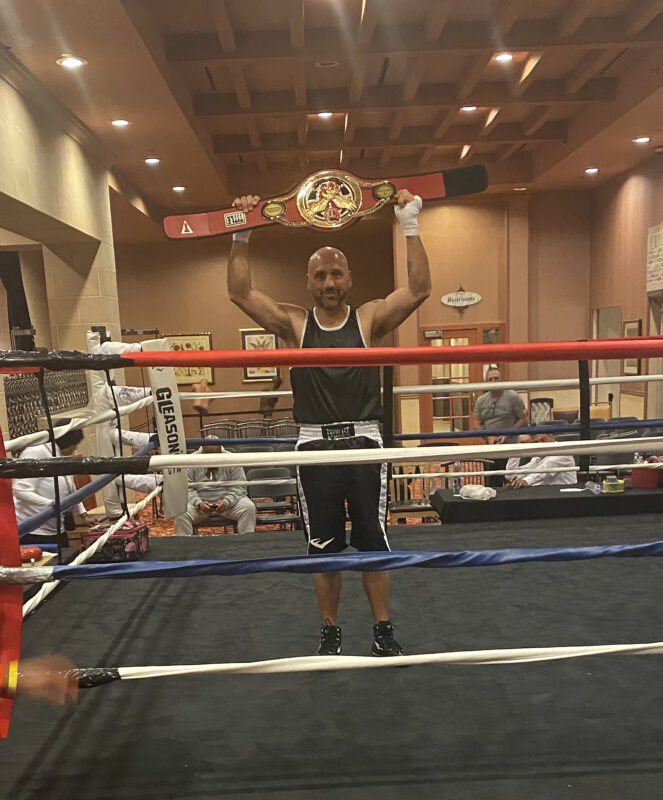 "My wife hated it when I first started fighting," Arteaga said. "She thought it was crazy. She goes, 'What the heck are you doing? You're old. It's free.'
"But she sees how happy it makes me. It keeps me balanced."
Arteaga had his first fight at the age of 43 and has been going strong in the 12 years since.
Typically fighting as a middleweight at roughly 165 pounds — he's willing to move up or down in weight if there are no fighters in his preferred weight class — Arteaga has won five titles since making his debut. That includes two recent titles in Las Vegas, in February and June of this year. He also won in Atlantic City, New Jersey, in October 2022.
Those titles were won at USA Boxing Masters Division tournaments for boxers ages 35 and up.
He won his first championship about 10 years ago in Costa Mesa at an Old Dog Boxing tournament, which Arteaga said had numerous tournaments locally before it shut down.
"That was nice because it wasn't like a two-day event or a show," Arteaga said. "This one, it was a series — you had to win five in a row … That place was open for maybe about two years and it was only two champs: myself and another champion … That was the first one and that one was special."
These days, Arteaga has to travel mostly outside of the state to compete. Many tournaments are held in Las Vegas, such as the two he recently won, as well as Texas.
His record, he said, stands at 12-2 with six knockouts.
Boxing doesn't only help keep Arteaga in shape, he said. When he's working out more, his business also sees a bump in production and his overall quality of life improves.
He also said that the journey of preparing for a fight is more rewarding than actually getting in the ring.
"I just feel sharper. I'm on a schedule, I'm on a routine," Arteaga said. "It's just a really nice journey. You know, every fight's a little different. Especially now, you get older, you have different injuries. Like, 'Oh, now my knee hurts. I'm going to swim a little bit more versus run more.'
"I just feel like you live a better life, you know."
Arteaga has no plans to slow down anytime soon. He's planning to enter a tournament in Las Vegas in February in which teams from Canada and Germany are set to compete.
And as he competes in USA Boxing tournaments, Arteaga said that he is open to competing in the Olympics one day. Because the tournaments he fights in are sanctioned by the national governing body, winners are eligible to be chosen to compete in the world games in the Masters Division.
"I would love to go. I mean, I'd love to represent the country," Artega said.
But even if that doesn't pan out, Arteaga is simply grateful to be doing what he loves and reaping the benefits of it.