By Tony Ciniglio For The Signal "Operation Mojo" went into full effect for the Valencia softball team. Coach Donna Lee talked about searching for Valencia's "mojo" heading into the Foothill League opener, and perhaps the mojo began to flow after a rivalry victory over Hart. Amarys Miller Godsey and Emma Bramson launched game-changing homers, and Shea O'Leary retired the final 10 batters she faced as Valencia rallied for a thrilling 4-3 Foothill League-opening victory Tuesday afternoon at Hart. "It's really huge to start off league win a win and get a little bit of confidence going," Valencia catcher Ally Shipman said. "From here on out, we're going to have a different attitude about this and hopefully win the Foothill League again." Hart hoped to earn its first victory over Valencia since a 1-0 win on April 18, 2013 – a span of seven games. And Hart raced to a 3-0 lead with a three-run third inning, keyed by a massive homer by Brooke Marquez, an RBI infield single by Maddie Reyes to score Jordyn Gasper from second base and a heads-up play by courtesy runner Briana De La Maza to score on a wild pitch. "We were super hyped," said Marquez, who had three of Hart's five hits. "Honestly we wanted to come out fighting and get ahead and play good defense, and that's what we did. We wanted to keep the momentum going." Added Gasper: "I was screaming from the dugout."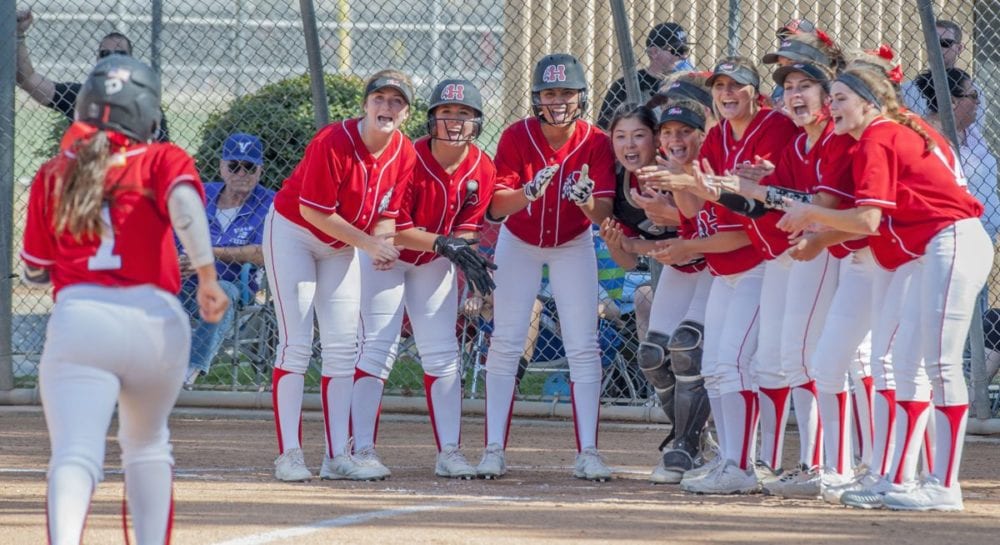 Back came Valencia (14-7 overall, 1-0 in Foothill League), which won its final three games at the Michelle Carew Classic following tough losses to Division 1 ranked teams Gahr and Great Oak. Godsey smashed a solo homer over the left-field wall to put Valencia on the board in the fourth inning to get it started. "It was in the sweet spot," Godsey said. "I felt I cost us a run earlier in the game, so the at-bat meant a lot to me. I had to get us on the board or at least get on base so we can score some runs." Then came a defensive stand. With Hart threatening to expand the lead in the fourth inning, Valencia left fielder Kelia Paragas cut down Sarah Backer at the plate to end the inning. "I saw her rounding third, and I was not allowed to let them score another run," Paragas said. "I knew our offense would come back and beat them once again, and I knew Shea would shut them down." Fired up, Valencia turned the tables in the fifth. Macayla Paragas legged out a bunt single. One out later, the Tennessee-bound Shipman received one of her three intentional walks in the game. Then Bramson delivered the decisive blow, a three-run blast to left field. "I went up there just looking for a hit – and then it went over," Bramson said. "As I was running, I wasn't even looking at the fence. I was just hearing everyone cheering, and it was a good feeling."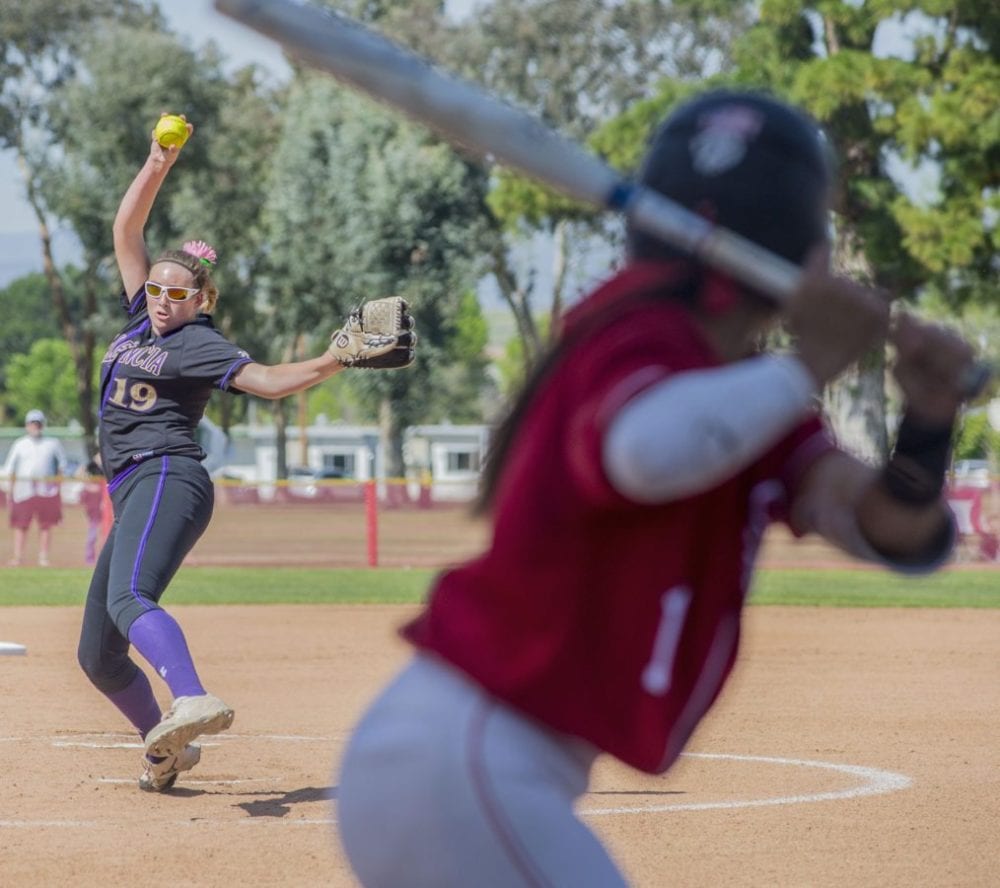 That was all the Texas-bound O'Leary needed. She finished with 11 strikeouts, three walks (two intentionally to Hart cleanup hitter Aly Kaneshiro) and one hit batter. "After the team got me the lead, I felt a lot more confident in myself and knew I needed to win this for the team," O'Leary said. "Hopefully we can get some momentum going and keep winning from here on out." The mojo is also building for Hart (5-11, 0-1), the reigning Division 3 finalist that had mixed results while waiting for Saugus transfer Amanda Souza and Sierra Canyon transfer Kathryn Smudde to serve their sit-out period following their transfers. Souza, pitching in just her fourth game, threw a six-hitter with three strikeouts and five walks (three intentional). "She did great. We talked about what we wanted to do, and we got it done for the most part," said Kaneshiro, Hart's catcher. "But they have some decent hitters and just hit the ball." Gasper said this will only embolden Hart the rest of the way. "We did well, getting three runs off a good pitcher," Gasper said. "Next time we're coming for them and we are going to beat them. We got this."
Saugus 11, Canyon 0 (5 innings)
Allie Enright blasted a leadoff homer to ignite Saugus (12-4, 1-0) to a powerful league-opening mercy-rule win over Canyon (4-12, 0-1). Jessica Cordola added a two-run blast and went 3 for 3 with a double. Leslie Reynaga took a no-hitter into the fifth inning before Jordan De Young broke up the bid with a leadoff single. Reynaga finished with seven strikeouts and two walks in a commanding performance. Clarissa Ellwein had two hits and two RBIs, Gracie Keene had a double and two RBIs and Makayla Lopez had an RBI double. Saugus travels to Golden Valley on Thursday while Canyon hosts Hart.
Golden Valley 8, West Ranch 1
Cassidy Cangemi fired a one-hitter to power Golden Valley (11-1, 1-0) to the league-opening victory at West Ranch (10-3, 0-1). Cangemi struck out seven and walked three. Coach Daniel Soto credited a clean defensive game with just one error, capped by center fielder Olivia Vasquez's nice catch at the wall to close the game. Jasmine Carbajal led the offensive surge by going 3 for 4 with an RBI and a run scored. Nicole Smart ignited a four-run seventh with a two-run double,  and Sophia Medellin capped the outburst with a two-run double of her own for Golden Valley, which is ranked No. 3 in this week's CIF Southern Section Division 3 poll behind West Torrance and Rancho Cucamonga. Sara Olson staked West Ranch to an early 1-0 lead in the first inning with a leadoff single, stole second, took third on a sacrifice and scored on a passed ball. Golden Valley hosts Saugus on Thursday while West Ranch travels to Valencia.